Stonehaven is a coastal town situated some fifteen miles south of Aberdeen City. It is the principal county town of historic Kincardineshire within the Local Authority of Aberdeenshire and specifically its Kincardine and Mearns Area.

Stonehaven sits in a setting of outstanding natural beauty. To the east is the town's sweeping bay and harbour, to the north and south it is bounded by cliffs and to the west the town is contained currently by the man-made boundary of the A90 trunk road beyond which are green fields, woodland and rolling hills.
It is a town with a rich history. Its historical credentials include, amongst others, its oldest building, the Tolbooth, which dates from the end of the 16th century and, of particular note, the nearby ancient monument of Dunnottar Castle.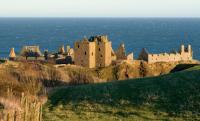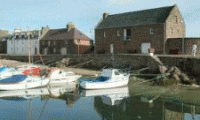 The economic centre of Stonehaven, historically, was the old town and harbour with fishing its main local industry. Over the course of the late 18th and 19th centuries, the town expanded towards the current Market Square.
However, it is the changing fortunes of Aberdeen City which have had the greatest impact on the town's growth. The town doubled in size from 1971 to 1981 and has grown a further 35% since then to a population today of about 11,000 some 76% of which work in the city of Aberdeen or surrounding areas.
Although many of the town's residents commute to Aberdeen, Stonehaven does offer all the key services and amenities of a small self-contained county town.In addition to its local retail, industrial and commercial businesses, there are the amenities of a local leisure centre, golf course and recreation grounds, primary and secondary schools, local authority services and medical services including the Kincardine Community Hospital.
Its natural setting, history and specific attractions such as its Art Deco Open Air Pool and its many special events have made Stonehaven an attractive place to visit as well as to live.